Center of Hearing and Speech Medincus in Warsaw
Center of Hearing and Speech Medincus in Warsaw
Center Presentation
Team
Our Services
Contact and Registration
Aktualności
The Center of Hearing and Speech "MEDINKUS" in Warsaw is our first branch, which began its activity in the second half of 2006. Until 2012, the Center was located on the 2nd floor of the historic Sierakowski Palace (Pałac Sierakowskiego) in the northern part of one of the oldest districts of the Polish capital, New Town. Now the Center is located on one of the main streets of Warsaw – Jerusalem Alley (al. Jerozolimskie).
We offer you:
doctor's offices,
rehabilitation rooms,
speech therapist office,
a hearing aid cabinet,
two hearing examination rooms (including one room equipped with two audiometry cabins),
an inhalation room.
Center Equipment:
a fully equipped ENT machine with a video-otoscope, video-fiberscope, video-endoscope, video-microscope and video-stroboscope, as well as the ability of recording images and sounds,
two cabins for audiometry and equipment for complex hearing examinations with objective tests,
equipment for screening newborns and infants,
diagnostics of imbalance using electronystagmography and videonystagmography (ЕNG, VNG) with water thermal irrigators and air thermal irrigators,
Sensory Organs Research Platform – modern equipment for screening tests of vision, hearing and speech,
Stimulation of Polymodal Sensory Perception (SPPS-S) according to the method of Professor Skarżyński.
Anna Geremek-Samsonowicz
Tomasz Michalak
Anna Ślusarczyk
Piotr Sopliński
Aleksander Karpiesz
Tamara Kąkolewska
Monika Matusiak
Paulina Młotkowska-Klimek
Magdalena Sosna-Duranowska
Sandra Wawszczyk-Frohlich
Anna Fabijańska
Natalia Czajka
Diana Grudzień
Marek Zaleski
Grażyna Tacikowska
Małgorzata Uszyńska-Tuzinek
Jolanta Serafin-Jóźwiak
Anna Piotrowska-Lorens
Katarzyna Pietrasik
Katarzyna Łazęcka
Justyna Dąbrowska-Bień
Magdalena Kosowska
Marta Morawska
Eliza Piątek
Anna Zawadzka
Agnieszka Mizińska
Urszula Pietraszewska
Aleksandra Sidz
Iwona Niedziałek
Karolina Krakowiak
Maria Jungermann
Natalia Wołoszyn
Łukasz Srzelczyk
Małgorzata Sekowska 
Amanda Trzasko 
Magdalena Kozłowska
Katarzyna Piejko
Bogusława Iwanicka 
Martyna Bauk
Joanna Parulska
Paulina Szczurowska
Otorhinolaryngology department
Speech therapy department
Phoniatric department
Psychological department
Hearing aids, selection of hearing aids
Rehabilitation
Inhalation
Therapy – Stimulation of Polymodal Sensory Perception (SPPS-S) according to the method of Professor Skarżyński
Psychotherapy
Imbalance diagnostics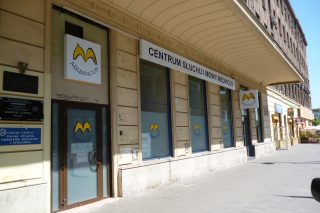 Monday: 8.00-19.00
Tuesday: 8.00-19.00
Wednesday: 8.00-19.00
Thursday: 8.00-19.00
Friday: 8.00-18.00
Saturday: 8.00-13.00 (Not every Saturday, please contact us in advance)